New Fairfield/Pine Hill Road
Location: 230 Pine Hill Road or Squantz Pond
Donor: Betty Stote, 3/2002
Size: 9.7 acres
Dominant Habitat: Forestland
The Pootatuck State Forest borders this beautiful forestland on 3 sides. The property to its north is a huge tract owned by Timber Trails Association and stretches up into Sherman. In fact, the only way to access the property is along the State Forest road that cuts the land in half as it temporarily leaves the state forest and enters once again on the far side of the 9.7 acres. There is also a state forest hiking trail cutting through the property that connects with the rest of the trail system that includes Look Out Point. This land gives us a good opportunity to work with the State, although they have shown some interest in purchasing it from us.
Recreational Access: Hiking Trails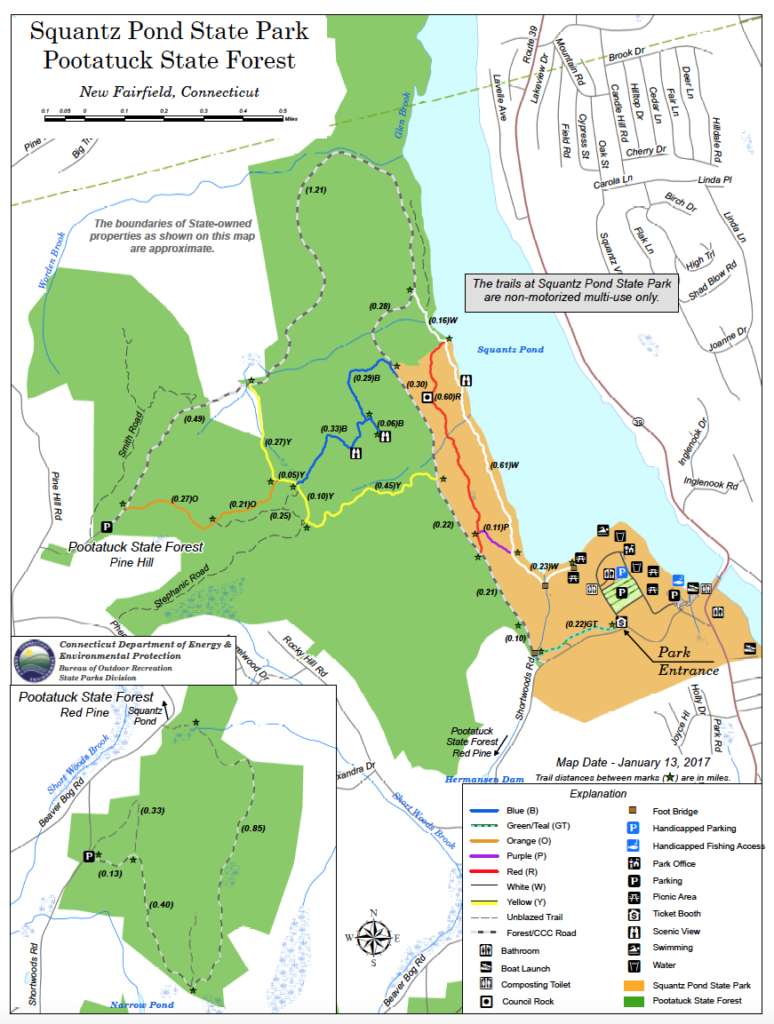 Directions & Parking:
Squantz Pond: Take Route 39 north towards the causeway sep­arating Squantz Pond from Candlewood Lake to Short Woods Road. From its intersection with Route 39, follow Short Woods Road westerly 0.1 miles to the entrance of Squantz Pond State Park (in season fee required).
From Pine Hill: Take Route 37 north to Pine Hill Road. Take a right on Pine Hill and follow towards the end. The road splits near the end with one leg continuing straight downhill to a cul de sac and the other turning right. Take the right and continue on to parking area with a pole gate at the beginning of the Forest Road.
Unique site attributes: The Pootatuck State Forest and Squantz Pond State Park con­tain approximately 1,155 acres and offer the best hiking in New Fairfield. There are some wonderful walks through magi­cal mountain settings with breathtaking vistas, steep, wooded slopes, rapidly flowing streams and many interesting rock formations (including Council Rock) all straddling the cool blue waters of Squantz Pond. There are many miles of trails to explore. Although you will sometimes feel like you are in deep wilderness, you needn't worry about getting lost (for more than an hour or 2). The pond is always visible on the lower trails and you have only to walk toward the water to pick up the main trail that parallels the shoreline. Most of the land is owned by the state but there are 10 acres of Land Trust property along the for­est road just before the yellow trail coming from Pine Hill that was donated by Elizabeth Stote. Besides the main forest trail system accessible from Squantz Pond State Park and the end of Pine Hill Road, there are two other smaller trail systems worth exploring, accessed from Short Woods Road and Beaver Bog Road (see map inset). Get out and enjoy.